How To Get A Job At Google As A Data Scientist
How To Get A Job At Google As A Data Scientist
bharani bharani
2 months ago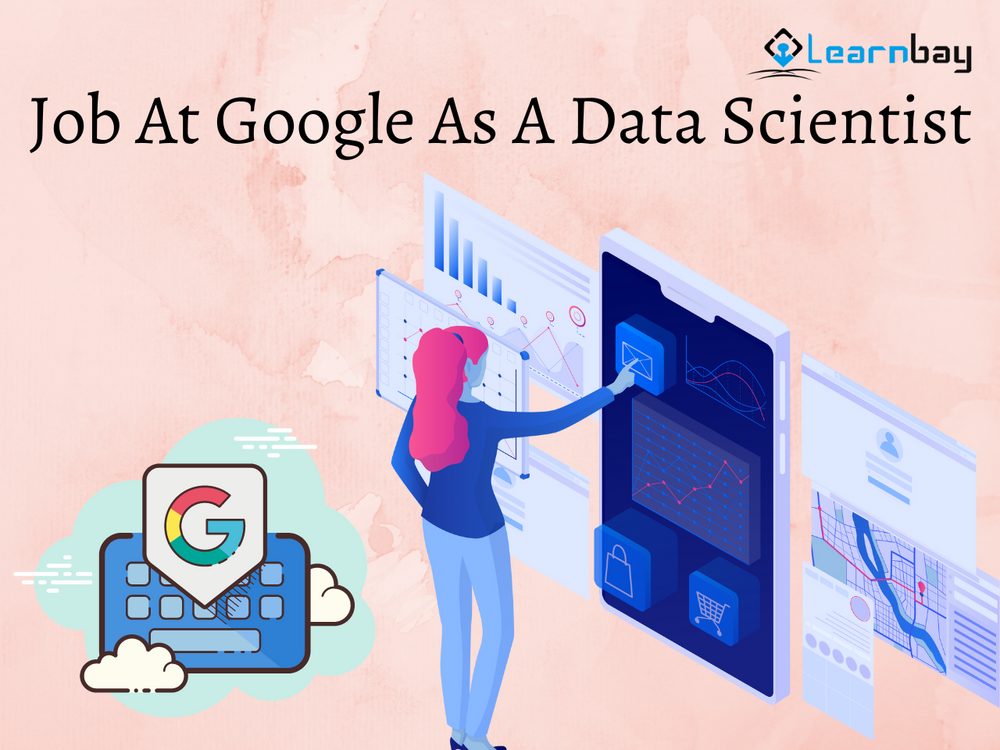 Because of its business of search engines, productivity and communication tools, mapping and travel services, Android operating system, and YouTube, Google is a refuge for data science professionals.
The firm relies on data scientists to collect, evaluate, and extract business insights because there are many data-driven sectors. Data scientists are a crucial component of Google's business, helping the company understand how to make its cloud platforms more effective, better understand how its user-facing products are used, or simply use its own data to develop optimization techniques and provide answers to business questions.
Many companies have transformed the world as much as Google has. Check out the data science certification course to start upskilling. And continue reading to learn how to land a job with Google as a data scientist!
What Type of work environment does Google have?
Google takes pleasure in being "Googley," a phrase that describes company culture and the traits that make for a happy and effective workplace among its employees.
"Do you have an intellectual curiosity? Do you perform effectively in an atmosphere that needs to be clarified? Do you enjoy solving incredibly challenging problems? Stated Kyle Ewing, head of outreach and talent programs for Google's People Operations division. We know that person is the most successful type here.
Other "Googly" qualities, according to Google data scientists, include acting with the customer in mind, actively seeking ways to serve your team, taking the initiative outside of your core job duties, and participating in Google events like training or hiring.
What are the employment perks at Google like?
Regarding sprinkling employees with perks and advantages, Google is a role model for technological corporations. Google's additional employee perks include:
Full range of medical insurance, including access to doctors, physical therapists, chiropractors, and massage services nearby
Complementing 18–22 weeks of maternity leave
Charitable giving
Fertility support
Adoption support
In addition to giving staff members very few reasons to leave its campuses since it takes care of their meals, healthcare, and wellness.
What's the Google interview procedure for Data Scientists like?
Like many other large tech firms, Google's hiring procedure for data scientists starts with a phone interview with a recruiter who asks detailed questions about the candidate's background, interest in the organization, and prior employment.
Recruiters determine whether a candidate meets the requirements for the position during this stage. These requirements include having an undergraduate or graduate degree in computer science, statistics, economics, mathematics, bioinformatics, physics, or a related subject. They will also evaluate a candidate's familiarity with advanced analytical techniques, operations research, and analytics.
In the final stage, which consists of a series of onsite interviews, candidates must respond to situational questions regarding Google's products, analyze statistical data, and provide business advice based on fictitious scenarios.
How do data scientists apply for internships at Google?
Google offers internships in three different areas: business, engineering, and technology, and BOLD, which stands for Build Opportunities for Leadership and Development and is a program for undergraduate seniors from backgrounds that have historically been underrepresented. During the summer, internships are frequently 12–14 weeks long, paid positions.
Candidates must excel during the application process on two fronts to land a sought-after Google internship: technical capabilities and "Googleyness." The latter concerns a candidate's "Googleyness" or whether they are the kind of person that other people want to work and hang out with. It pertains to their attitude and work ethic. Check out the data science course fees offered by Learnbay institute.
How does working as a data scientist at Google feel?
The product teams that a Google data scientist is a part of heavily influence their daily activities. All of Google's data scientists are proficient in Python, SQL, data processing, experiment design, conducting original research, dealing with large amounts of data, using statistical software, and creating data-driven hypotheses, but they all apply their knowledge to other parts of the company.
For instance, Artem Yankov, a Google data scientist, works on Google's forecasting team, where he utilizes data to help the firm predict how many customer service agents it should hire internationally to serve all of Google's products around the world and in various languages.
How to acquire the abilities a Google data scientist should have?
You need the ideal mindset, coding abilities, work experience, and education to be a data scientist at Google. It can be worthwhile to look at alternative paths to becoming a data scientist at Google, such as these transition routes if you lack the necessary training or professional experience. We've already discussed that if you don't have the correct personality type, working as a Google data scientist isn't the best choice for you.
In addition, check out the data scientist course fees at Learnbay data science training and you can take steps to sharpen your hard skills. The main focus of this section will be the best ways to acquire the coding abilities and database knowledge that are prerequisites for data scientist positions at Google.
Statistical terminology:
For the past ten years, "statistical NLP" has been most frequently used to describe non-symbolic and nonlogical NLP research. Any quantitative methods for automated language processing that use statistics are called statistical natural language processing (NLP).
R and Python are the two most widely used statistical languages, and they are both mentioned explicitly in job applications for Google Data Scientist positions. This means that if you want to educate yourself, you are not required to pay anything.
Database programming:
The backend is concerned with performance if the front end is about appearance. The kind of database queries that are written will determine this.
Database languages aka query languages are programming languages that developers use to define and retrieve data. These languages enable users to carry out operations within the database management system (DBMS), such as:
Limiting user access to data
Data definition and modification
Seeking information.
Simple interview techniques:
Don't forget to shake hands, follow up, make eye contact, and project confidence. But standard interview inquiries also include the following:
Pacing – You will go through five rounds of interviews for the position of Google Data Scientist, with only a lunch break in between. Remember that you have a long day ahead of you, and speak softly while drinking water as needed.
Friendliness – Your ability to work well with others and your suitability for the position is tested. People that enjoy working together are what Google is looking for. Strive to adopt an attitude of enjoyment and amusement for the interviewers.
Excellent listening – It is proven that people listen less effectively when they are anxious with your interview, practice effective active listening techniques. By doing so, you'll be able to better grasp the questions being asked of you, avoid misunderstandings, and establish a relationship with the interviewers. An uncommon talent is good listening.
Conclusion:
You'll be a rockstar if you have the necessary abilities, preparation, and passion. You have a one-way ticket to one of the top jobs in the world as long as you nail the fundamentals, adequately showcase your skills in the resume and interview process, and show how well you fit the culture. Further, look at our in-depth tutorial for the best data analytics course, which will walk you through each step required to become a professional data scientist and analyst.